Women's Flag Football League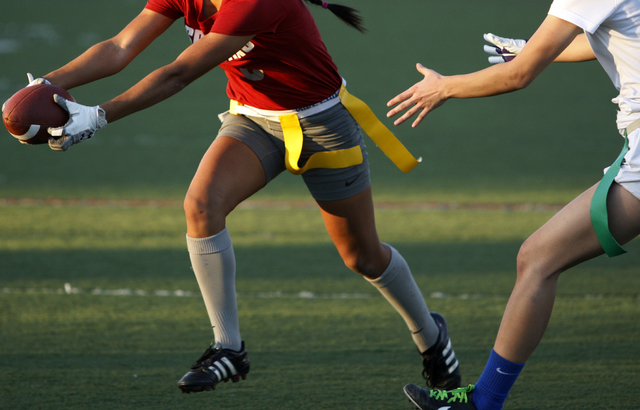 Seasons: Winter, Spring, Summer, Fall, Holiday
League Information
7 Game Season + Single-Elimination Playoff Bracket (2018 Holiday Season is shortened to 6 games)
2 – 23 minute halves
7 v 7 – Women's League
Players must be 18 years old by the start of the season
All players must provide their own flag belt. We will no longer be renting them out.
Registration Rates/Scheduling
Team Fee – $400 (Maximum 11 players on roster) + $20/game from each team for Referees

$50 fee to add players past the maximum allowed.
*$200 of the team fee must be paid 1 week prior to start of season in order to be placed on schedule. The remaining $200 must be paid by week 3!
Season Information
2019 Winter Women's Flag – REGISTRATION NOW OPEN
Games will be played on Sundays
Season starts January 20th
Team Registration Deadline: January 13th

Team Payment Deadline: $200 paid by January 13th


League Policies
Substitue Players (Drop Ins)Policy
Drop In/Sub Fees are $15 per game played
DROP IN/SUB FEES DO NOT COUNT TOWARDS ANY LEAGUE FEES!
No substitutes will be allowed during post-season play.
Sub Players/Drop Ins are allowed ONLY when a team does not have enough players to field a full team (6 for Over 30 and 7 for Women's and Saturday). Teams MUST have at least 4 players from their set roster before they can use drop in players.

For example, if Team A has 7 or more of their rostered players present then they are NOT allowed and drop ins. If Team B only has 5 of their rostered players then they are allowed to have 2 drop ins to get to the required 7 players.

Non-Rostered Subs

Players not on a roster in the selected league may pay a sub fee of $15 to participate in a game if a team is in need (See Rule Above-D.b). There is no limit on the amount of games they can drop in for each night). However, they are not eligible to play in the playoffs.
The $15 must be paid for each drop-in game

Rostered Subs

Players who are on finalized rosters within the selected league may pay a $15 sub fee to play with another team in the same division/league if a team is in need (SEE Rule Above-D.b). However, they are only allowed to sub in with 1 team in a given night.

For example, If Dillon is on Team A in Saturday Division 3 and wants to drop in and play for Team B in Division 3, he may do so ONLY if Team B does not have enough players to field a full team (7 players). Team B is also the only team Dillon would be allowed to drop in with on that night.

Players on rosters can not sub in for multiple teams in a given night within the same division.
Individual Player Registration (Free Agent)
Players looking for a team must register as an individual looking for a team, the Field House staff will assign themselves to a specific team if we have enough players to do so.  We will contact already existing teams to see if they are looking for free agents.
Check-In
Prior to the start of each league game, players will be required to show a picture ID and check-in with the field marshall. Players who are not rostered will have to register or pay the drop-in fee at the front desk
Home/Away  Colors
The HOME Team will wear their designated team color (or black)
The AWAY Team will wear any color that doesn't closely resemble the HOME Team's color (or the AWAY team will wear white)
Flag Belts
All players are required to have their own flag belts. Belts are sold at the front desk for $10.
Refund Policy
"Refunds will ONLY be issued in the event of a program cancellation"
Injury Policy
Two Options Available:

Transfer credit to another member (membership fee must be paid)
Account can be credited with remaining balance
Download the Adult Flag Football Rules here
** At the end of each season, teams may be promoted or relegated; this will be at the discretion of the League Director. The League Director also reserves the right to split or combine divisions if needed. **
For questions, contact via email: cbookman@fredfieldhouse.com.