Youth Flag Football League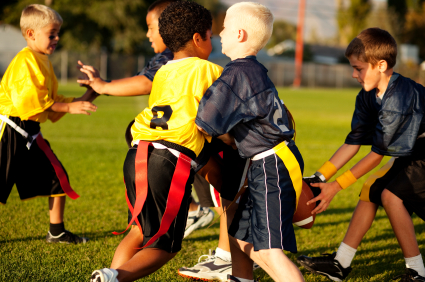 Seasons: Winter, Spring, Summer, Fall, Holiday
League Information
7 Game Season + Playoffs (Holiday and Summer seasons are shortened to 5 regular season games)
Games are played on both Saturday and Sundays


Game times are assigned between 8am – 6pm

PRACTICES ARE NOT GUARANTEED. WE OFFER ONE 55 MIN. PRACTICE A WEEK, DEPENDENT ON FIELD AVAILABILITY. Practices can be scheduled Mon-Fri for the following week. No practices scheduled on Sat/Sun.
40 minute Games (20 minute halves)
Indoor Leagues (4-13 years old) – 6 v 6
Outdoor Leagues (14-17 years old) – 7 v 7
*PLEASE NOTE: NO POCKETS ALLOWED
Registration Fees
Early Registration: $75 (Ends February 23rd)
Regular Registration: $85 (Ends February 28th)
Late Registration: $95 (Begins February 29th)
Notes
*We encourage all volunteers to coach. Please contact Jono Rollins at jrollins@fredfieldhouse.com if interested in coaching*
*The Last Day for Regular Individual (or Free Agent) Registration is Saturday, February 23rd. After this date, placement on a team is not guaranteed. *
Season Information
2019 Spring Youth Flag Football – REGISTRATION NOW OPEN
Season begins: March 2nd
Team Registration Deadline: February 24th

Free Agent Registration Deadline: February 23rd

Early Registration Deadline: February 23rd
Late Registration Begins: February 29th
GAMES ARE PLAYED ON SATURDAYS AND SUNDAYS
League Policies
Individual Player Registration (free agent)
Players looking for a team must register as an individual looking for a team, the Field House staff will assign themselves to a specific team if we have enough players to do so.  We will contact already existing teams to see if they are looking for free agents.
Player to team registration
Each player is required to register to a team prior to the start of the season.
Teams will be given a code that players will use to register for their team.
Check-In
Prior to the start of each league game, players will be required to show a picture ID and check-in with the field marshall. Players who are not rostered will have to register or pay the drop-in fee at the front desk.
Substitution/Drop-In Policy
A substitute is allowed for any regular season league game. This is a great chance to bring out friends who would like to try out the league but do not want to pay the full registration fee, or players who are only in town for a night or two.
The fee is $15 per game. A substitute may play on any team, but may not play on two different teams in the same league on the same night.
No substitutes will be allowed during post-season play.
Drop-in fees do not apply towards the league fee.
Refund Policy
"Refunds will ONLY be issued in the event of a program cancellation
Injury Policy
Two Options Available:

Transfer credit to another member (membership fee must be paid)
Account can be credited with remaining balance
Age Cutoffs
The age cutoff for each season is the date for the start of the season. Players whose birthday occurs on the cutoff date, must play in the age group that they turn on/before the start of the season.

Spring '19: March 2nd, 2019

Flag Football Sizes
| | | | |
| --- | --- | --- | --- |
| Rec and ADV Teams | Ball | | |
| 4-5 | Pee Wee Ball (K2) | | |
| 6-7 | Pee Wee Ball (K2) | | |
| 8-9 | Pee Wee Ball (K2) | | |
| 10-11 | Junior Ball (TDJ) | | |
| 12-13 | Youth Ball (TDY) | | |
| 14-17 | Senior Ball (TDS) | | |
Rules
CLICK HERE FOR YOUTH FLAG FOOTBALL RULES
*PLEASE NOTE: NO POCKETS ALLOWED