Adult Kickball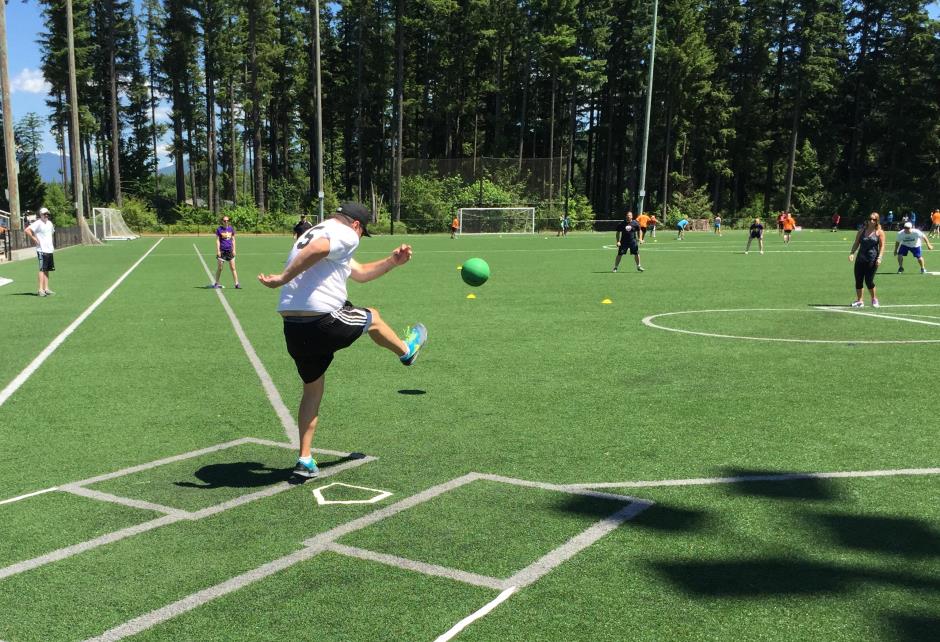 LEAGUE DIRECTOR:
Zach Kressler
Come enjoy your favorite playground game! Lace up the kicks, grab a cold beverage and come enjoy Adult Coed Kickball with your friends!
League Information
Each team has a maximum of 10 players on the field at one time. (Minimum of 7 players to avoid a forfeit).

7 weeks of regular season + playoffs

Games are 7 innings or 50 minutes long, whichever comes first.
Games are played on the outdoor turf field
$10 substitution fee
Season Information
2021 Fall Adult Coed Kickball League 
Season Dates: September 12 – October 31

Fees are $300/Team, $30/Player after the 10th player.

Games are played Sundays between 2P-5P
League Policies
Individual Player Registration (Free Agent)
Players looking for a team must register as a Free Agent. The Field House staff will assign themselves to a specific team if we have enough players to do so.  We will contact already existing teams to see if they are looking for free agents.
Player to team registration
Each player is required to register to a team prior to the start of the season.
Teams will be given a code that players will use to register for their team.
Check-In
Prior to the start of each league game, players will be required to show a picture ID and check-in with the field marshall. Players who are not rostered will have to register or pay the sub-fee at the front desk.
Substitution/Drop-In Policy
A substitute is allowed for any regular season league game. This is a great chance to bring out friends who would like to try out the league but do not want to pay the full registration fee, or players who are only in town for a night or two.
The fee is $10 per game. A substitute may play on any team, but may not play on two different teams in the same league on the same night.
A team must have 4 paid roster players checked-in to have Sub Fees for a game.
No substitutes will be allowed during post-season play.
Home/Away  Colors
The HOME Team will wear their designated team color (or black)
The AWAY Team will wear any color that doesn't closely resemble the HOME Team's color (or the AWAY team will wear white)
Refund Policy
"Refunds will ONLY be issued in the event of a program cancellation"
Injury Policy (two options available):
Transfer credit to another member (membership fee must be paid)
Account can be credited with remaining balance
League Champions:
League Champions are entitled to championship T-shirts OR a 20% discount on team registration.