Speed & Agility Training
Registration is Open Now!
Fredericksburg Independent Soccer Club is offering a professional Speed, Strength and Agility Training program that will run Mondays and Wednesdays from 5:30-6:30P and the Fredericksburg Field House. Coach Anthony Wallace focus will be on long-term athletic development. His goal is to help athletes reach their full athletic potential to eventually lead to advanced and post-high school journeys as players, athletic excellence, and teammates.
Training will be focused on the athlete's flexibility, strength, and range of motion. This will begin the process of increasing the athlete's speed and power, which will make them more explosive when running.
ABOUT THE COACH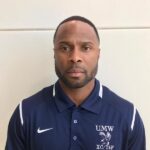 Coach Anthony Wallace began his journey to coaching as an outstanding athlete himself. Being a former Courtland Cougar, he set many records (some of which he still holds to this day) and won numerous state championships in Track & Field. He furthered his athletic career at James Madison University and, in 2002, became an All-American US and World ranked Long Jumper. He thrived as a student-athlete before graduating from JMU with a BBA and a degree in Computer Information Systems. Coach Wallace recently became USTFCCCA 321 Speed Specialist Certified.
Coach Wallace has 17 years of coaching experience, all of which he achieved at local schools such as James Monroe High School, Riverbend High School, and the University of Mary Washington. While at Riverbend, he led the boys' and girls' track teams to Conference titles in 2017. Then two years later, in 2019, he assisted both the UMW Men's and Women's Outdoor Track & Field teams to Capital Athletic Conference (CAC) titles. He also established and owns Action Sports Performance.
Needless to say, Coach Wallace leaves a heavy impact and great influence on each athlete he has the opportunity of working with. Some of his notable athletes that continued their careers at a distinguished college level include: Sydney Wallace, a 2x Big South Defensive Soccer Player of the Year (Longwood Alum), Trajan Anderson (Villanova University Football), Alex Andros (Washington & Lee Football), Trey Watkins (William & Mary Football), Jaren Holmes (University of North Carolina Track & Field), Khailah Griffin (Northeastern University Track & Field), and Gordon Lewis (University of North Carolina Central Track & Field).
REGISTRATION INFO:
$140/month ($35 per session)
LEAGUE DIRECTOR:
Coach Wallace